Custom Web Designs For Your Unique Business
Creating a custom web design is one of our most requested services. Our Windsor area clients come to us with a variety of concerns for both new and existing websites. Whether you are interested in updating an old website, or wanting to create a new website from scratch, our unique and creative web designs will result in a custom look that will fulfill your requirements both functionally and aesthetically.
Our web designs include consideration for presentation, photos and artwork, typography, content layout, mobile friendliness, SEO rankings, social media integration and promotionals. Yes, plenty of thought goes into each website we create.  View some of our recent projects.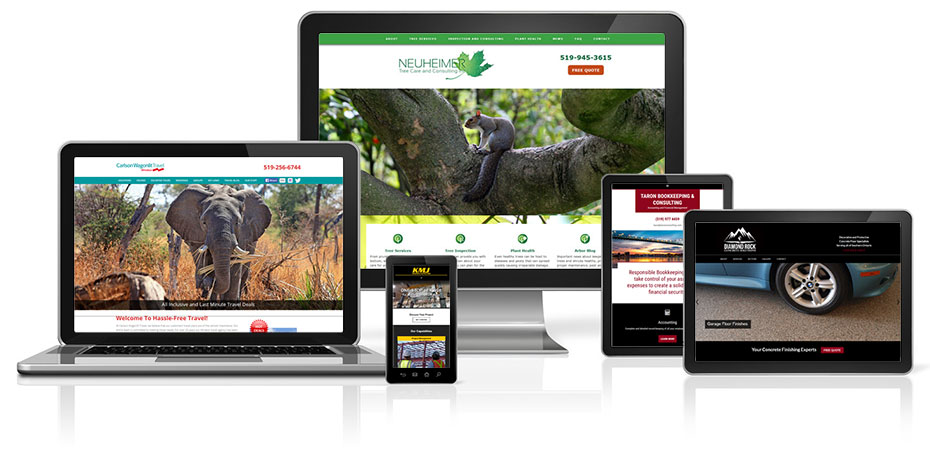 Our Web Design Process
We begin by assessing the needs of your business based on your industry, your clients and your goals. Finding a functional and pleasing web design is based on your preferences, the required website structure and developing a user-friendly interface for your target audience. After our web designers have created a model for your new site, your input helps fine tune the final web design. Our programmers use the model to develop a functional site, but completion doesn't occur until everything functions optimally for the use of both you and your visitors.
Functionality, Style, Traffic
A modern and attractive web design is desirable, but worthless if the site doesn't function optimally for the needs of your company. Our web designs are created to please your visitors, but also to serve their needs, and yours, to the benefit of both. Some website structures simply don't work with the information you need to convey. We work with our clients to develop a format that works while maintaining an updated and modern look with style. We want to make sure that your new website attracts attention; not just the attention of visitors, but of the search engines as well. An optimal web design causes search engines to index your site faster and rank it higher exposing it to even more potential visitors.
Related Website Design Services
Oliver Marketing is a full service web design company based in Windsor / Essex County focusing on innovative, informative, and effective web designs. We help emerging businesses get off the ground and grow into successful companies.